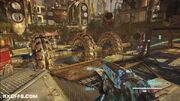 Power Plant is a Multiplayer map in Bulletstorm. Three deadly, fast spinning grinders can be utilized in the power plant. The map also features metal rebars, electrically charged objects, explosive barrels and a massive drop.
Map Exclusive Skillshots
Edit
| Name | Points | Description |
| --- | --- | --- |
| Ground Chuck | 50 | Fling an enemy into the grinder on the Power Plant level.                                          |
Ad blocker interference detected!
Wikia is a free-to-use site that makes money from advertising. We have a modified experience for viewers using ad blockers

Wikia is not accessible if you've made further modifications. Remove the custom ad blocker rule(s) and the page will load as expected.