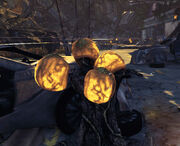 Nom Parasites grow on some of the trees on Stygia. They are large pulsating, yellow pods with a small, toothy, circlular mouth that can be leashed and kicked onto the heads of enemies to incapacitate them for a few seconds. Killing enemies in various ways with parasites attached to their heads will yield different skillshots:
Nom Parasites can also be kicked/leashed onto Trishka, Ishi and Gen. Serrano for some funny comments and sights to behold.
All Nom Parasite related skillshots-Halloween, Nominated, Scarecrow, Heads Up, Leak- can be achieved at the area just after leaving the burnout feeding ground(the place with the second muta-burnout). Note that you have to bring a flailgun (or shotgun) for the Heads Up skillshot.
Ad blocker interference detected!
Wikia is a free-to-use site that makes money from advertising. We have a modified experience for viewers using ad blockers

Wikia is not accessible if you've made further modifications. Remove the custom ad blocker rule(s) and the page will load as expected.