Mercy
Skillpoints
New

500 sp

Base Value

100 sp

Weapons
Weapon type(s)

Peacemaker Carbine (recommended)

Ammo

Regular

Enemies
Enemy type(s)
Number of enemies

One
The Mercy skillshot is achieved by shooting an enemy in the balls, then either shooting or kicking him in the head. If you do not quickly finish the move after bringing the enemy to their knees, he will stand up again, making it extremely hard, if not impossible to do it again with that particular enemy.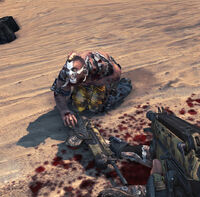 Ad blocker interference detected!
Wikia is a free-to-use site that makes money from advertising. We have a modified experience for viewers using ad blockers

Wikia is not accessible if you've made further modifications. Remove the custom ad blocker rule(s) and the page will load as expected.