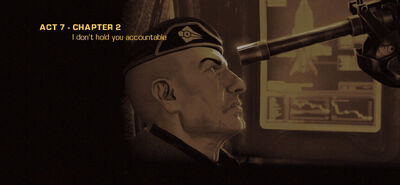 I Don't Hold You Accountable (Act 7-2) is the second chapter of the seventh Act in Bulletstorm's campaign. It is the final chapter of the game. In this level your primary objective is to kill General Victor Sarrano.
This is the only level that Skulls, Creeps, and/or Burnouts, are not encountered. Trishka, Ishi and you will kill Heavy Echo who will only have PMC Charge Shots. Your loadouts will be saved from (Act 7-1).
TIPS: You should use the Boneduster when there are multiple Heavy Echo near you.
When you kill a Heavy Echo with a PMC Charge while he is charging his PMC, you will earn the "Discharged" Skillshot.
Ad blocker interference detected!
Wikia is a free-to-use site that makes money from advertising. We have a modified experience for viewers using ad blockers

Wikia is not accessible if you've made further modifications. Remove the custom ad blocker rule(s) and the page will load as expected.