Fire in the Hole
Skillpoints
New

500 sp

Base Value

100 sp

Weapons
Weapon type(s)

PMC (recommended)

Ammo

Any

Enemies
Enemy type(s)

Miniboss

Number of enemies

One
Fire in the Hole is a skillshot in Bulletstorm.
It can be attained by stunning a Miniboss, kicking him in the ass-plate and unloading into his rear twice. This skillshot is rewarded with 500 skillpoints on first performance and 100 when performed afterwards. This is also probably one of the most annoying skillshots to perform as you have a very limited time between the removal of the rear protection and the shooting of his asshole.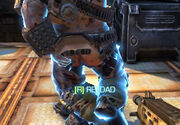 When this skillshot is earned, a fart noise can be heard and a stream of fire will spew from the Miniboss' behind.
When performed using the Penetrator, you will see blood and a "brown substance" shoot out of the miniboss' rear and the end of the drill.
Ad blocker interference detected!
Wikia is a free-to-use site that makes money from advertising. We have a modified experience for viewers using ad blockers

Wikia is not accessible if you've made further modifications. Remove the custom ad blocker rule(s) and the page will load as expected.