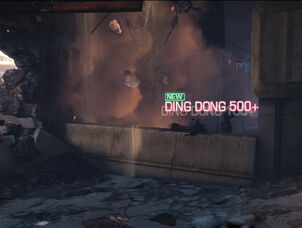 Ding Dong is a skillshot achieved by using the leash to open a door on the ceiling in Act 4 Chapter 3 "Itchin' to Crumble," unleashing debris on enemies and killing them.
GLITCH ALERT: This skillshot doesn't pop up when on "Very Easy" or "Easy" Difficulty setting. Try it on "Normal" or higher to unlock.
Note: I got this on "Very Easy". It is possible, but took several tries.
Ad blocker interference detected!
Wikia is a free-to-use site that makes money from advertising. We have a modified experience for viewers using ad blockers

Wikia is not accessible if you've made further modifications. Remove the custom ad blocker rule(s) and the page will load as expected.